A tax-efficient investment vehicle to generate steady long-term returns!
AI Renewable is a flow-through limited partnership that invests in clean or renewable energy projects across Canada. It strives to create sustainable long-term returns for investors by investing in long-term profitable energy projects in Canada. AI Renewable issues flow-through limited partnership units to raise investment capital, and executes innovative investment arrangements that provide tax advantages for its investors.
AI Renewable Limited Partnership:
AI Renewable Limited Partnership is a limited partnership formed under the laws of the Province of Ontario.
The Partnership will use its Available Funds to invest, directly or indirectly, in combined heat and power (CHP) projects and other renewable energy development projects.
Tax-Effective Structure – Flow Through:
Canadian Renewable and Conservation Expenses (CRCE) – similar tax treatment as Canadian Exploration Expense (CEE)
Expected that 100% of investment deductible from income for tax purposes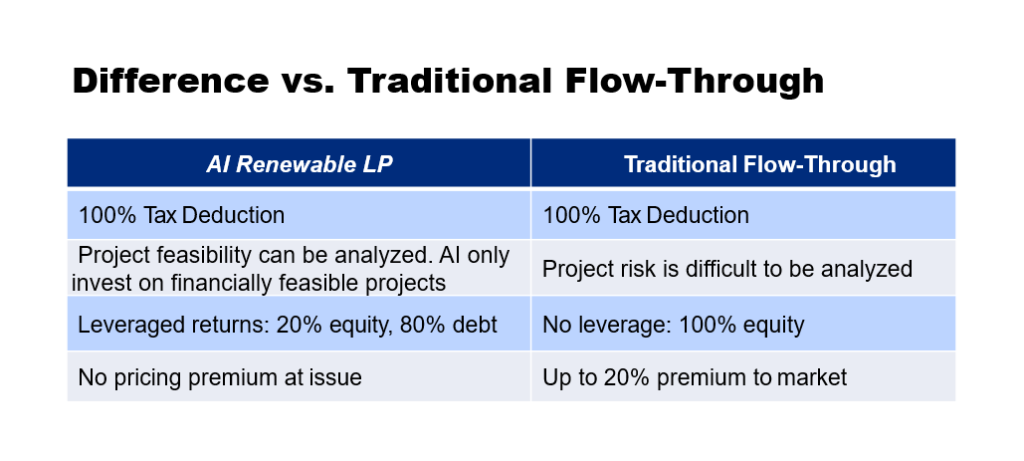 A

Tax-efficient Investment

Vehicle to Generate

Steady Long-term Returns
Please Contact Us:
Email: info@AIRenewable.ca
Phone: 1 (888) 851-6676